Informe contra mi mismo / Report Against Myself (Paperback)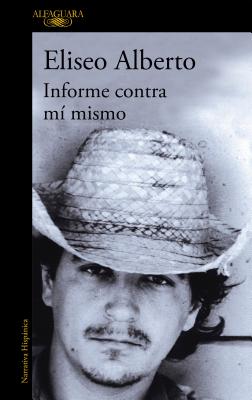 $19.95
Email or call for price.
Description
---
Eliseo Alberto evoca con coraje como comenzó siendo un firme partidario de la Revolución Cubana hasta que empezó a cuestionarse si había merecido la pena.

Informe contra mí mismo es un libro a favor de lo que amo: mi familia, los amigos, la isla entera. No me propuse una memoria de la historia sino una primera historia de mi memoria. Preciso: la emocionante memoria de los míos. Sobre la experiencia de la Revolución cubana se ha debatido casi siempre en defensa de posiciones extremas. A quemarropa. La razón dicta.

La pasión ciega. Sólo la emoción conmueve, porque la emoción es, a fin de cuentas, la única razón de la pasión. Lo único imperdonable es el olvido. Tarde o temprano, los cubanos nos volveremos a encontrar, bajo la sombra isleña de una nube. Hay que estar atentos: el toque de una clave se escucha de lejos.»

ENGLISH DESCRIPTION

"Report Against Myself is a book in favor of all that I love: my family, my friends, the entire island. I didn't intend to write a memoir of the story but rather a first story about my memory. Let me clarify: the exciting memory of my people.

The experience of the Cuban Revolution has almost always been debated in defense of extreme positions. If some fellow countryman, in any remote corner of the world, recognizes himself or herself in these pages and remembers because of my memories, I will feel like I have company. The only unforgivable thing is to forget. Sooner or later, Cubans will find each other again, under the island shade of a cloud. But you have to be alert: the sound of a clave can be heard from far away". - Eliseo Alberto
About the Author
---
Eliseo Alberto, Lichi (Arroyo Naranjo, Cuba, 1951 - Ciudad de México, 2011), siempre soñó con ser pianista y ganar torneos de ajedrez. Estudió periodismo. Fue jefe de redacción de las revistas El Caimán Barbudo y Cine Cubano. Escribió guiones de cine y televisión, entre ellos el de Guantanamera, dirigida por Tomás Gutiérrez Alea. En la isla publicó tres poemarios (Importará el trueno, Las cosas que yo amo y Un instante en cada cosa) y una novela (La fogata roja, Premio Nacional de la Crítica). En el exilio publicó su polémico libro de memorias Informe contra mí mismo y las novelas La eternidad por fin comienza un lunes, La fábula de José, Esther en alguna parte y El retablo del conde Eros. Fue ganador del primer Premio Internacional de Novela Alfaguara en 1998 por Caracol Beach.