Where Reasons End: A Novel (Hardcover)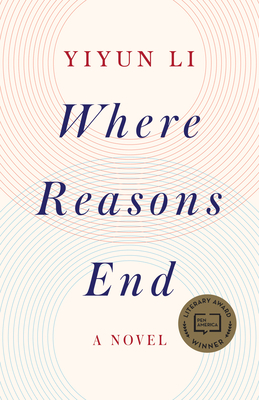 Staff Reviews
---
An elongated conversation between two beings who keep "running into each other," Where Reasons End is beautifully rendered by Yiyun Li. Part memoir part fiction, a son who recently died from suicide talks with his mother, our narrator. Allergic to the overwrought, this book demonstrates the all-encompassing dullness of grief and meditates on the efficacy of language in the face of the unsayable. Circling questions, rarely presenting answers, it reminds us that those who have left are still just right beside us. Where Reasons End is spectacular in its fortitude—one of the most quietly magnificent books I've ever read.
- Lucia, L.
— From
Reading Lists & Recommendations
Description
---
A fearless writer confronts grief and transforms it into art, in a book of surprising beauty and love, "a masterpiece by a master" (Elizabeth McCracken, Vanity Fair).

"Li has converted the messy and devastating stuff of life into a remarkable work of art."—The Wall Street Journal

FINALIST FOR THE PEN/JEAN STEIN AWARD • LONGLISTED FOR THE PEN/FAULKNER AWARD • NAMED ONE OF THE TEN BEST FICTION BOOKS OF THE YEAR BY TIME AND ONE OF THE BEST BOOKS OF THE YEAR BY Parul Seghal, The New York Times • NPR • The Guardian • The Paris Review

The narrator of Where Reasons End writes, "I had but one delusion, which I held on to with all my willpower: We once gave Nikolai a life of flesh and blood; and I'm doing it over again, this time by words."

Yiyun Li meets life's deepest sorrows as she imagines a conversation between a mother and child in a timeless world. Composed in the months after she lost a child to suicide, Where Reasons End trespasses into the space between life and death as mother and child talk, free from old images and narratives. Deeply moving, these conversations portray the love and complexity of a relationship.

Written with originality, precision, and poise, Where Reasons End is suffused with intimacy, inescapable pain, and fierce love.
About the Author
---
Yiyun Li is the author of four works of fiction—Kinder Than Solitude, A Thousand Years of Good Prayers, The Vagrants, and Gold Boy, Emerald Girl—and the memoir Dear Friend, from My Life I Write to You in Your Life. A native of Beijing and a graduate of the Iowa Writers' Workshop, she is the recipient of many awards, including a PEN/Hemingway Award and a MacArthur Foundation fellowship, and was named by The New Yorker as one of the "20 Under 40" fiction writers to watch. Her work has appeared in The New Yorker, A Public Space, The Best American Short Stories, and The O. Henry Prize Stories, among other publications. She teaches at Princeton University and lives in Princeton, New Jersey.
Praise For…
---
"Where Reasons End belongs to a band of books produced in the forge of intense pain; their authors, aristocrats of suffering—think of The Year of Magical Thinking and Blue Nights, Joan Didion's memoirs of the deaths of her husband and daughter in close succession. . . . For Li, to apply her own language to suicide means to understand suicide as the most private of decisions, to address it without cheap sentiment or condemnation. . . . As the title alerts us, this book takes place in a territory beyond reason, in all its connotations—beyond explanation or understanding. The mother does not require them. In the final reckoning, there is nothing she needs from Nikolai other than his company, his ghost; to carry him for a moment more, to keep the story going."—The New York Times

"This expansive, heartfelt examination of grief in novel form moves through a series of conversations between the mourning mother and her elusive, yet vividly present son. This utterly original novel will move anyone who has experienced loss in any form."—Jan Weissmiller, Forbes

"Yiyun Li's gutting novel imagines a conversation between a mother and child, months after the child's suicide. The prose is ethereal and electric, radiating unthinkable pain and profound love."—BuzzFeed

"Li's creative engagement with words and with their insufficiency and her willingness to confront the most haunting truths equip her to write a book about grief unlike any other."—HuffPost

"The most intelligent, insightful, heart-wrenching book of our time. I will be pressing this into everybody's hands, saying: 'Read this, read this now.'"—Andrew Sean Greer, Pulitzer Prize–winning author of Less

"I received Yiyun Li's galley tonight, began almost against my will, and have now just closed it. Some of the words forming are ones that Nikolai would find fault with so I will swallow them. But I sit here shaken and, I think, changed by this work."—Katherine Boo, Pulitzer Prize–winning author of Behind the Beautiful Forevers

"Where Reasons End is about the saddest thing in the world, and yet the experience of reading it is mysterious and expansive, as though the limits of all things—language, love, and life—are further than we ever imagined. These stories—astonishing in their compassion, their scope, their private jokes, and their longing—are for anyone who has ever wished that a loved one could have found a way to stay a little longer. An extraordinary book by one of our most extraordinary writers."—Elizabeth McCracken, author of Thunderstruck & Other Stories

"The worst thing that can happen to a parent is the death of a child. In this brilliant, moving book the mother continues her dialogue with her intelligent and sometimes acerbic son. Together they contemplate the paradoxes that beset our experience. This is a burning message from one of our best writers."—Edmund White, author of The Unpunished Vice: A Life of Reading