The Great Fishing Contest (Paperback)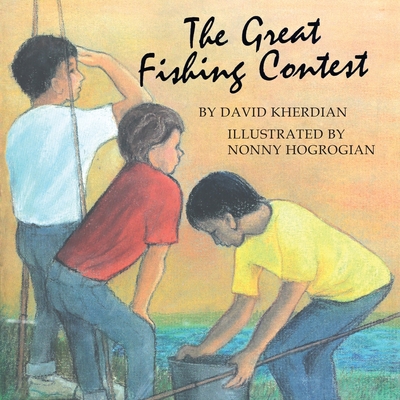 $14.99
In stock at publisher: Usually Ships to store in 3-5 Business Days
This book cannot be returned to our store.
Description
---
An honest to goodness slice of Americana
School's out and best friends Sammy and Jason have set off to win their town's annual fishing contest...but to these eager 10 year old boys, this is no ordinary fishing contest - it's THE GREAT FISHING CONTEST. In the week's leading up to the contest, the boys carefully plan their strategy to catch the biggest fish and win the grand prize - a brand-new fishing kit. Through mindful preparation, they assemble their gear, scope out the pond, and try their best to put themselves in the mind of the fish.
From Newbery winner David Kherdian and Caldecott medalist Nonny Hogrogian
Newbery award winning author David Kherdian has captured a true slice of Americana in THE GREAT FISHING CONTEST. Aspects of the friendship between Sammy and Jason harken back to simpler times before everything was RUSH-RUSH-RUSH. A scene that comes to mind is when the two boys sit on the porch and analyze whether luck will have anything do with them winning the grand prize. Kherdian cerrtainly has a knack for capturing honest and engaging dialogue. Caldecott Medalist Nonny Hogrogian has provided beautiful illustrations done in oil paint that really do capture the excitement of the boys as they set off to win THE GREAT FISHING CONTEST.