Cuba In Splinters (Paperback)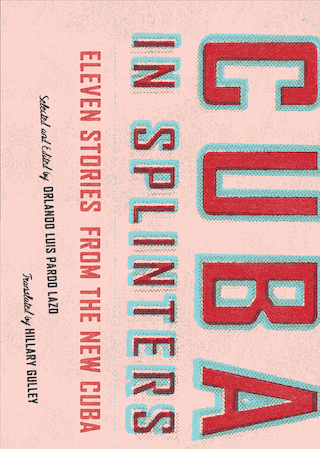 $17.00
Email or call for price.
Description
---
Think Cuba, you're likely to think bearded revolutionaries in fatigues. Salsa. Sugar cane. Rock 'n' roll, zombies, drugs – anomie and angst – do not generally figure in our mental images of a country that's assumed an outsized place in the American imagination. But fresh from the tropics, in Cuba in Splinters – a sparkling package of stories we're assured are fictional – that's exactly what you'll find. Eleven writers largely unknown outside Cuba depict a world that veers from a hyperreal Havana in decay, against a backdrop of oblivious drug-toting German tourists, to a fantasy land – or is it? – where vigilant Cubans bar the door to zombies masquerading as health inspectors. Sex and knife-fights, stutterers and addicts, losers and lost literary classics: welcome to a raw and genuine island universe closed to casual visitors.
About the Author
---
Orlando Luis Pardo Lazo, webmaster of the blog Lunes de Post-Revolución, at one point worked as a molecular biologist in the Cuban Center for Genetic Engineering and Biotechnology. Despite being a member of the official Union of Writers, for his dissident writings, he was censored and arrested several times on the Island. A resident of Havana, he is now living temporarily in the United States, where he studies a PhD in Comparative Literature at Washington University in Saint Louis, Missouri. He has also published the digital photobook Abandoned Havana (Restless Books, New York, 2014) and the compilation of his journalistic chronicles "Del clarín escuchad el silencio"
Praise For…
---
Orlando Luis Pardo Lazo has managed to put together a wonderful selection full of quite unique stories that together create a strong image of Cuba. The collection starts off strong with a story about love and loss. I think Lazo should be proud of what he's created here. Nearly all of the stories fit so perfectly together, all different but somehow right together. There's the perfect mix of sex, drugs and zombies, and some of the writing is so poetic (especially in 'Skhizein (Decalogue for the Year Zero)') that I found myself lost in the writer's world. Cuba In Splinters is not something you find everyday, but I think there should be much more like it about. (Eleanor Hemsley, Sabotage Reviews, 2014)


Castro's revolution was and is a phenomenon, Pardo Lazo suggests in his introduction, which can be "understood as a national narrative that distances us from the rest of the planet." It has, he adds, "caused us Cubans to be less contemporary." Now, though, as the United States, whose government is being bankrolled through routine purchases of its debt in the form of U.S. Treasury Bills by communist/capitalist China, reluctantly loosens up in its relations with still-socialist Cuba, is a new chapter in the island's painful recent history about to begin? That remains to be seen. Meanwhile, as a small island in a vast region whose long history has often been as colorful as it has been harsh, Cuba then — and now — remains one of world culture's most complex, strangely alluring subjects. This new book calls attention to the enduring attraction of a place whose ongoing story of conquest and liberation isn't over yet. (Edward M. Gómez, Hyperallergic, 2014)


Americans are understandably eager to explore Cuba, a country long off-limits to them. The music, the architecture, the sea, and the liveliness of the Cuban people charm almost all who visit. But for many Cubans, daily life is dirty and difficult. These short stories, by Cuban writers who work on the thin edge of official disapproval, recall the authenticity of Jack Kerouac and Henry Miller and vividly portray the grittiness of the Cuban experience. (Tom Gjelten, PBS, 2014)