Moomin Deluxe: Volume Two (Hardcover)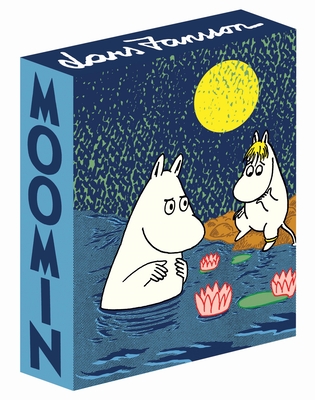 Description
---
A lavish celebration of Moominvalley, complete with hundreds of pages of comics, writing, and ephemera

Since the first Moomin comic strip appeared in the London Evening News, Tove Jansson's creations have become an international sensation, inspiring TV shows, cafés, a museum, an opera, and even an amusement park. And now in this new deluxe edition are hundreds of pages of Moomin comics, starring Moominmamma, Snorkmaiden, Sniff, Mrs. Fillyjonk, and many more familiar faces.

Collected in this volume are the comics created by Lars Jansson, when his sister, Tove, grew tired of drawing a daily strip after half a decade. Lars had long been involved in the creation of the Moomin strips—he translated them into English for publication. Though he had little knowledge of drawing, Lars took over the daily comic strip. Tove taught him, and after two years of sibling collaboration, Lars authored the strips independently for fourteen years. By the mid-1970s, when the strip was at its height of popularity, the tales of Moominvalley were being syndicated in forty papers worldwide, just as absorbing to adult readers as they were to children. Even today, the stories remain uniquely resonant with readers for more than just their quirky, outlandish appearances. With silly humor, the Moominvalley characters emphasize the importance of community and respecting one's environment to readers young and old.

Moomin Deluxe: Volume Two collects Lars Jansson's contributions to the series alongside rare ephemera and tributes by cartoonists and writers. Sumptuously designed, it is a must for any fan of Moominvalley.
About the Author
---
Lars Jansson (1926-2000) was a Finnish cartoonist and author. He was a published author at sixteen before he taught himself to be a cartoonist in order to replace his sister Tove on the Moomin comic strip. Lars Jansson drew the strip for fourteen years.

Tove Jansson (1914–2001) was born in Helsinki and spent much of her life in Finland. She is the author of the Moomin books, including Comet in Moominland and Finn Family Moomintroll. Born into an artistic family—her father was a sculptor and her mother was a graphic designer and illustrator—Jansson studied at the University College of Arts, Crafts and Design in Stockholm, the Finnish Academy of Fine Arts, and L'École des Beaux-Arts in Paris. In addition to her Moomin books, she also wrote several novels, drew comic strips and worked as a painter and illustrator. In 1966, she was awarded the Hans Christian Andersen Medal for her body of work. Jansson had a studio in Helsinki but spent most of her time at her home on a small island called Klovharu.