Spark and the League of Ursus: A Novel (Hardcover)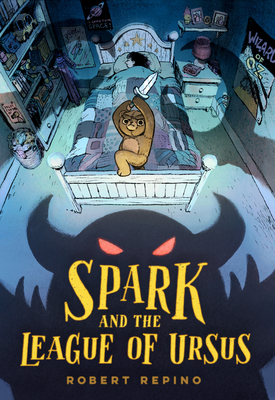 Other Books in Series
This is book number 1 in the League of Ursus series.
Description
---
"Grab a flashlight and burrow under the covers! Spark and the League of Ursus is the perfect bedtime adventure, with a fierce, fluffy hero you'll want by your side when the lights go out."—Kirsten Miller, New York Times bestselling co-author of Nightmares!

Toy Story meets Stranger Things in this epic tale of warrior teddy bears and the children they protect.

Spark is not your average teddy bear. She's soft and cuddly, sure, but she's also a fierce warrior. At night she fulfills her sacred duty: to protect the household from monsters. But Spark's owner Loretta is growing up and thinks she doesn't need her old teddy anymore.

When a monster unlike any other descends on the quiet home, everything changes. Children are going missing, and the monster wants Loretta next. Only Spark can stop it. She must call upon the ancient League of Ursus—a secret alliance of teddy bears who are pledged to protect their human friends. Together with an Amazon-princess doll and a timid sock monkey, the bears are all that stands between our world and the one that lies beneath. It will be a heroic chapter in the history of the League . . . if the bears live to tell the tale.
About the Author
---
Robert Repino is the author of Mort(e), Culdesac, and D'Arc, which make up the critically acclaimed War with No Name series (Soho Press). He holds an MFA in creative writing from Emerson College and teaches at the Gotham Writers' Workshop. He lives in New York City where he works as an editor at an academic publisher. This is his middle-grade debut. Robert had two special teddy bears when he was growing up: Bear and Blue Bear.
Praise For…
---
"Repino pits an indomitable squad of teddy bears...against a child-stealing monster...the climactic battle, when it finally arrives, becomes a breathless, close-run thing replete with rousing exploits and tests of courage."—Booklist

"A secret world of sentient toys comes to life in this gently creepy, Toy Story–tinged adventure.…With its exploration of themes such as family, loyalty, bravery, and the power of imagination, this story is both entertaining and uplifting."—Publishers Weekly

"A thrilling adventure."—Kirkus Reviews

"I liked this book because it had an engaging storyline. It was just the right amount of suspenseful without being too scary. The story was exciting to follow, so I could read it quickly. I would recommend this book to other people because it was fun and easy to read."—Shreya, age 9, reviewer for Kids' Book Buzz

"Two thumbs up...a must read if you are a stuffed animal lover."—Neatorama

"Beautiful and a bit emotional...A fantastic read for all ages."—Fangirlish

"Grab a flashlight and burrow under the covers! Spark and the League of Ursus is the perfect bedtime adventure, with a fierce, fluffy hero you'll want by your side when the lights go out."—Kirsten Miller, New York Times bestselling co-author of Nightmares! 

"A heroic teddy bear, an Amazon Princess doll, and a fellowship of stuffed animals must save their beloved children from some truly scary monsters. I loved the imaginative world building and likable characters (toy and human alike) of this fast-paced tale. A blast from start to finish!"—J.A. White, award-winning author of Nightbooks and the Thickety

"Spark and the League of Ursus will fire the imagination and spur the adventures of any kid with a teddy bear. Also, any adult with a teddy bear."—J. W. Ocker, Edgar Award-winning author of Death and Douglas

"If Toy Story had teeth, you'd have Spark and the League of Ursus. A thrilling and heartwarming tale that will make you look twice under your bed and never take your teddy bear for granted again."—Tania del Rio, author of the Warren the 13th series

"Enchanting, zippy-paced, and just scary enough to make me want to dig deeper under the covers in the dark of night (and pull my old teddy bear out of the closet), I dearly adored Spark and her human."—Natalie Lloyd, New York Times bestselling author of A Snicker of Magic