All Things Are Possible (Paperback)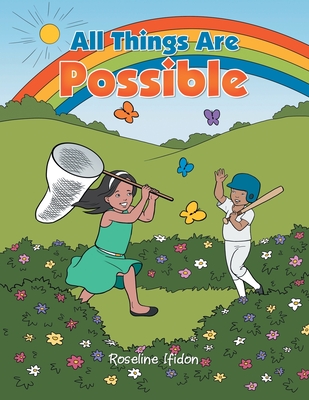 $20.99
In stock at publisher: Usually Ships to store in 3-5 Business Days
This book cannot be returned to our store.
Description
---
All Things Are Possible is a book that encourages children to believe in their dreams. When they believe, it will come to pass. It is important to encourage children to aspire to be the best they can be. This book is about having a dream or goal and knowing it can be achieved.
About the Author
---
Roseline Ifidon was born in Nigeria and grew up in a very good Christian home with her parents, an older sister and four younger brothers. Growing up, she remembered her mother used to tell them bedtime stories in the evenings. Her mother never read the stories from a book, she always remembered the different stories and she could tell everyone of the stories over again. The stories were always very encouraging. Roseline's mother informed the children to tell good stories every evening before bedtime. They each had to come up with very good and encouraging stories that'll motivate each other. The children always took turns to tell the stories. Roseline used to write the stories in her journal. Roseline left Nigeria to attend College and holds a Psychology degree from the University of Arizona in the United States of America. Upon her return to Nigeria, Roseline worked along side her parents in their school, Unity Staff School. She taught the kindergarten children and they always looked forward to her story time. Roseline worked with many children in the past and understands what keeps them encouraged. Roseline later went on to own and operate a very successful business in Nigeria. After some years, She relocated to the United States of America where she has been working in human services successfully for over 20 years. Roseline has a passion for giving people hope. She inspires them to attain their goals and dreams. Roseline always wanted to write a book that will give hope, inspire and encourage children. As a child, no matter what her dream or plan was at that time, her parents encouraged her to achieve them. Roseline thought to encourage children to achieve their own dreams no matter how small. After all this is from a child's perspective.