My Part of Her (Paperback)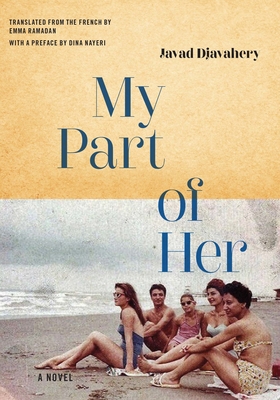 Description
---
In exiled Iranian author Javad Djavahery's captivating English debut, a youthful betrayal during a summer on the Caspian sea has far-reaching consequences for a group of friends as their lives are irrevocably altered by the Revolution.

For our unnamed confessor, the summer months spent on the Caspian Sea during the 1970s are a magically transformative experience. There, he is not the "poor relative from the North," but a welcome guest at his wealthy cousin Nilou's home and the gatekeeper of her affections. He revels in the power of orchestrating the attentions of her many admirers, granting and denying access to her would-be lovers. But in a moment of jealousy and youthful bravado, he betrays and humiliates an unlikely suitor, setting into motion a series of events that will have drastic repercussions for all of them as the country is forever transformed by the Iranian Revolution a few short years later.

Over the next twenty years, the lingering effects of that betrayal set the friends on radically different paths in the wake of political, religious, and cultural upheaval. Their surprising final reunion reveals the consequences of revenge and self-preservation as they each must decide whether and how to forget the past. Urgent and gorgeously written, My Part of Her captures the innocence of youth, the folly of love, and the capriciousness of fate as these friends find themselves on opposing sides of the seismic rifts of history.
About the Author
---
Javad Djavahery was forced to leave Iran at the age of twenty, escaping to France as a political refugee. He has never returned to Iran and now lives in Paris. In addition to writing screenplays and producing films, he has written two short-story collections in Persian and two novels in French. My Part of Her is his English-language debut.

Emma Ramadan is a literary translator based in Providence, RI where she is the co-owner of Riffraff bookstore and bar. She is the recipient of a PEN/Heim grant, an NEA translation grant, and a Fulbright fellowship for her translation work.

Dina Nayeri is the author of The Ungrateful Refugee, a finalist for the 2019 Kirkus Prize. Her debut novel, A Teaspoon of Earth and Sea (2013), was translated into fourteen languages. Her second novel, Refuge (2017), was a New York Times editor's choice. She holds a BA from Princeton, an MBA from Harvard, and an MFA from the Iowa Writers' Workshop, where she was a Truman Capote Fellow and Teaching Writing Fellow. She lives in Paris, where she is a fellow at the Columbia Institute for Ideas and Imagination.
Praise For…
---
"A searing novel, by Iranian exile Djavahery, of love and betrayal in a time of revolution…. Djavahery's novel is an aching evocation of paradise lost, one that is impossible to regain, even in our narrator's searching dreams. Vivid, shattering, and utterly memorable."
—Kirkus Reviews, Starred Review
— Kirkus Reviews, Starred Review

"There will be no kowtowing to the Western reader in these pages. There is no room for that gaze, because this is a story about our part in Iran's undoing. It is a collective reckoning with ourselves, with our part of her—the monster we created.
—From the Preface by Dina Nayeri, author of The Ungrateful Refugee and Refuge

"This English-language debut of exiled Iranian novelist Djavahery captures the headiness of youth, with all its promise and peril, and displays how seemingly small actions can become pivotal moments when the world is turned on its head."

—Booklist
— Booklist

"Djavahery's mesmerizing English-language debut illustrates how betrayal can have far-reaching ramifications…. Driven by the narrator's regretful voice, Djavahery's excellent, gripping tale depicts misplaced, youthful ambition and the conflicts of changing social norms."