More to the Story (Hardcover)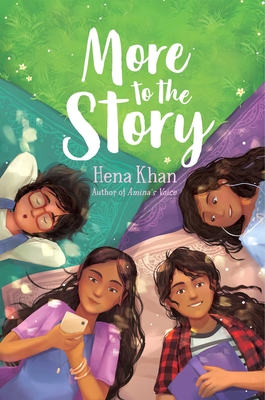 Staff Reviews
---
Review by Lilja
Jameela wants to be a writer, and when she becomes the features editor of her school newspaper everything starts looking up. Then her father has to go across the world for at least six months, her sister gets sick and Jameela's whole world falls apart. I really enjoyed this take on Little Women and think that Hena Khan does a really good job incorporating real life struggles with happiness and the importance of family and friendship.
— From
Young Readers Advisory Board
Readers who haven't yet read Little Women will still love this modern story of four sisters in a Pakistani American family. While the plot line and the characters follow Louisa May Alcott's classic, there are also many modern issues. Spunky Jamela longs to be an award winning journalist and learns about fake news and other responsibilities a reporter has to take on. Her father has to go off to Abu Dhabi for a job. Her sister battles with leukemia and the boy next door is from England. Hahn does a fabulous job of depicting Jamela's close knit family as they follow traditions while tackling modern problems head on. What a wonderful way to pass on a classic story!
— From
Staff Picks: Our Favorite Books of 2019
Description
---
From the critically acclaimed author of Amina's Voice comes a new story inspired by Louisa May Alcott's beloved classic, Little Women, featuring four sisters from a modern American Muslim family living in Georgia.

When Jameela Mirza is picked to be feature editor of her middle school newspaper, she's one step closer to being an award-winning journalist like her late grandfather. The problem is her editor-in-chief keeps shooting down her article ideas. Jameela's assigned to write about the new boy in school, who has a cool British accent but doesn't share much, and wonders how she'll make his story gripping enough to enter into a national media contest.

Jameela, along with her three sisters, is devastated when their father needs to take a job overseas, away from their cozy Georgia home for six months. Missing him makes Jameela determined to write an epic article—one to make her dad extra proud. But when her younger sister gets seriously ill, Jameela's world turns upside down. And as her hunger for fame looks like it might cost her a blossoming friendship, Jameela questions what matters most, and whether she's cut out to be a journalist at all...
About the Author
---
Hena Khan is a Pakistani American writer. She is the author of the middle grade novels Amina's Voice, Amina's Song, and More to the Story and picture books Golden Domes and Silver Lanterns, Under My Hijab, and It's Ramadan, Curious George, among others. Hena lives in her hometown of Rockville, Maryland, with her basketball-loving family. You can learn more about Hena and her books by visiting her website at HenaKhan.com or connecting with her @HenaKhanBooks.
Praise For…
---
"A beautifully warm and deeply heartfelt story of sisters, family, and love that will move the reader from laughter to tears and to hopefulness. Inspired by Little Women, Khan's More to the Story is a brilliant tribute to the original that both modernizes and enriches the story..." (Ellen Oh, author of The Spirit Hunter Series)

"In More to the Story, Hena Khan depicts a family as American as chili and football, as Pakistani as samosas and Eid... It is a quiet tour de force, and a must-read for anyone wrestling with what it means to be American in this day and age." (Adam Gidwitz, author of The Unicorn Rescue Society)

"More to the Story by Hena Khan is everything I could wish for in a modern interpretation of Little Women. The Mirza family is as endearing, funny, and loving as the March family, and I adored every word." (Karina Yan Glaser, author of The Vanderbeekers of 141st Street)

"[C]omfortingly familiar yet also entirely new, like an old friend given a makeover. The characters are believable and endearing, and their problems are emotionally weighty. The ways they find to support each other through difficulties, to fight, and to forgive highlight the reasons why Little Women still finds adoring fans...A delightful concept well executed, this volume is sure to find many fans."
— Kirkus Reviews

"Khan (Amina's Voice) nimbly incorporates details of modern life and allusions to Alcott's classic...into a tale that is, fittingly, strongest in the moments when family dynamics are on display."
— Publishers Weekly, starred review

"In her latest novel, Khan (Amina's Voice, 2017) brings readers a charming take on Louisa May Alcott's 1868 classic, Little Women...Khan's homage to one of her favorite books growing up is engagingly written for a young and new generation...Like Little Women, this is a story that is sure to appeal to many."
— Booklist

"Khan tells the story of a modern-day Pakistani American family while retaining the charm, familial warmth, and appeal of Alcott's classic."
— The Horn Book Magazine

"A positive and loving portrayal of a Muslim family."
— School Library Journal