The Unflushables (CD-Audio)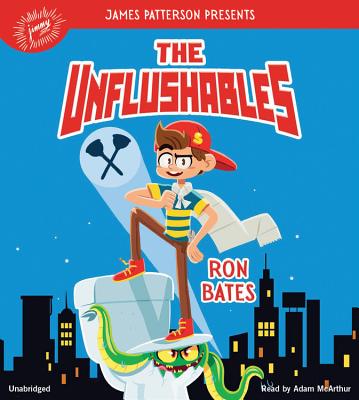 $25.00
Usually Ships in 3-5 Business Days
Description
---
Super Mario Bros meets Captain Underpants in this action-packed comedy sure to make a splash!

James Patterson presents: The Titans of the Toilet! The Wonders from Down Under! Nitro City's very own sewer superheroes: The Plumbers!

Thirteen-year-old Sully Stringfellow has always admired the great plumber heroes of Nitro City. These wrench-wielding warriors guarded the sewers -- until they were discredited by the powerful Ironwater Corporation, which has a sinister scheme to take over the city.

Without the plumbers, Nitro is being overrun by mutant creatures -- and things are about to go totally nuclear thanks to the potentially explosive 50th Anniversary Burrito Festival! It's up to Sully and a league of long-forgotten plumber heroes to save the day, making it safe for all to flush again. It's a dirty job, but someone's got to do it!
About the Author
---
Ron Bates is a novelist who writes about secret laboratories, bullies, evil robots, toilet monsters, super plumbers, cafeteria tacos, and all the other things that make being a middle-school student so interesting.

A former newspaper reporter and humor columnist, he is the author of How to Make Friends and Monsters, How to Survive Middle School and Monster Bots, and The Unflushables. He also writes comic books, poems, and other stuff for kids who like to laugh. He lives in Texas.
Praise For…
---
Praise for The Unflushables:
A Parents' Choice Awards (R) Winner!

"Pacey, punchy and with more jokes than you can shake a plunger at, The Unflushables is unputdownable!"—Mo O'Hara, New York Times bestselling author of the My Big Fat Zombie Goldfish series

"Hand this to avid fans of Captain Underpants who are looking for something longer but with ample potty humor and slapstick comedy."—School Library Journal

"50% detective mystery. 50% superhero saga. This book is 100% hilarious. Take the plunge with The Unflushables... Plumbing has never been this much fun!"—John Kloepfer, author of the Monsters Unleashed and Zombie Chasers series

"Half superhero adventure, half noir mystery... In typical pulp crime fashion, corruption and intrigue lead to some entertaining twists in an amusing story of potty play."—The Bulletin for the Council for Children's Books