The Invisible Boy (Hardcover)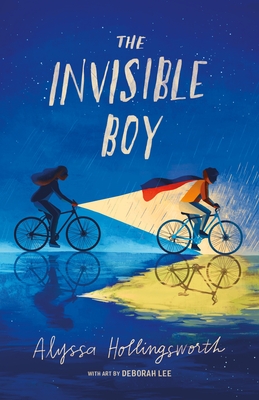 Description
---
If no one sees him, does he exist? This superhero-inspired adventure story explores friendship and what it means to be truly brave.

Nadia looks for adventure in the pages of her Superman comic books, until a mysterious boy saves her dog from drowning during a storm and then disappears. Now she finds herself in the role of Lois Lane, hunting down the scoop of the Invisible Boy. Suddenly she's in a real-life adventure that's far more dangerous than anything in her comic books.

The Invisible Boy is a mystery and an adventure story, as well as a story about child labor trafficking. Like Katherine Applegate, author of Crenshaw and Wishtree, Alyssa Hollingsworth takes a difficult subject matter and makes it accessible for middle-grade readers.

Featuring illustrations by Deborah Lee
About the Author
---
Alyssa Hollingsworth was born in small town Pensacola, Florida, but life as a roving military kid soon mellowed her (unintelligibly strong) Southern accent. Wanderlust is in her blood, and she's always waiting for the wind to change. Stories remain her constant.

Alyssa is the author of The Eleventh Trade.
Deborah Lee was born in Seoul, South Korea, and raised in New Jersey and Alabama. She always loved to draw, and currently works as a product designer and illustrator. Deb lives in the San Francisco Bay Area.

She is the illustrator of Alyssa Hollingsworth's The Invisible Boy.
Praise For…
---
"A grim reality approachably and even engagingly presented." —Kirkus Reviews

"A layered exploration of a challenging subject." —Publishers Weekly