Disaster Diaries: Robots! (Hardcover)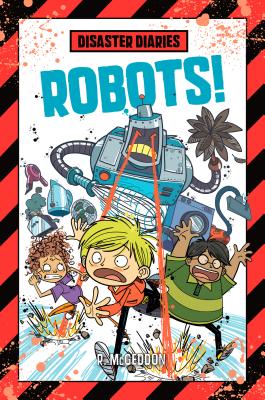 Other Books in Series
This is book number 4 in the Disaster Diaries series.
Description
---
You know how it is—you've built yourself a nice, artificially intelligent robot, and you're feeling pretty good about yourself… Until it suddenly tries to destroy everyone!
Sam, Arty and Emmie get more than they bargained for when Arty creates CHARLES for the school science fair. CHARLES is meant to be a helpful, chore-completing robot, but when he malfunctions, he proves to be a maniacal droid bent on destruction—all in the name of 'tidying up' the town of Sitting Duck for good.
When CHARLES raises his robot army—complete with pesky hairdryers and dangerous refrigerators—Sam, Arty and Emmie must take on their own creation to save the town once more!
Filled with funny illustrations and nifty tips on how to handle a robot gone rogue, Disaster Diaries: Robots! is the ultimate survival guide for when the machines take over (and they will, people, they will).
An Imprint Book
About the Author
---
R. McGeddon is absolutely sure the world is almost certainly going to probably end very soon. His middle grade series, The Disaster Diaries, details the many ways this could happen, including a zombie apocalypse, an alien invasion, and a mad scientist. A strange, reclusive fellow – so reclusive in fact, that no one has ever seen him, not even his mom – he plots his stories using letters cut from old newspapers and types them up on an encrypted typewriter. It's also believed that he goes by other names, including A. Pocalypse and N. Dov Days, but since no one's ever met him in real life, it's hard to say for sure. One thing we know is that when the zombie apocalypse comes, he'll be ready!