Comics Squad: Recess! (Paperback)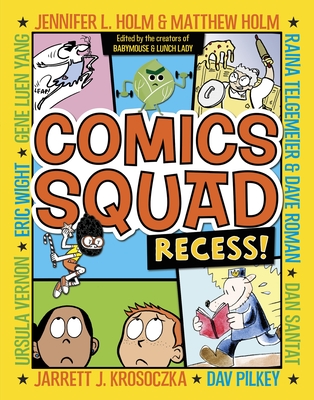 Other Books in Series
This is book number 1 in the Comics Squad series.
Description
---
A bust-your-gut-laughing graphic-novel anthology with original contributions from the most beloved names in the genre! * Jennifer Holm & Matthew Holm * Jarrett J. Krosoczka * Dav Pilkey * Dan Santat * Raina Telgemeier * Dave Roman * Ursula Vernon * Eric Wight * Gene Yang *
 
Wowza! Calling all kidz! Do you like comics? Do you like laughing till milk comes out of your nose?! Look no further—do we have the book for you! All your favorite comic creators are right here in this handy-dandy hilarious book! This all-star tribute to classic Sunday comics includes eight sidesplitting, action-packed stories about every kid's favorite subject—RECESS! With popular characters from Babymouse and Lunch Lady and brand-new soon-to-be favorite characters from superstars including Dav Pilkey! Raina Telgemeier! Gene Yang! and many more! Comics Squad also features Pizza Monsters! Secret ninja clubs! Aliens! Talking desserts! Dinozilla! Death-defying escapes! Bad guys! Good guys! Medium guys! Superheroes! Bullies! Mean girls! Epic battles! True love! Outlandish schemes! Evil plans! Fun! Jokes! Terrible puns! And other surprises that will tickle your funny bone! WARNING: THIS BOOK MAY CAUSE EXCESSIVE LAUGHTER AND POSSIBLE SILLINESS. No assembly required. (Pizzatron 2000 not included.)
About the Author
---
JENNIFER HOLM--Foster City, CA (Babymouse, Squish, New York Times Bestseller, 3 time Newbery Honor Winner, Eisner Award Winner) * MATTHEW HOLM--Portland, OR(Babymouse, Squish, Eisner Award Winner)  *JARRETT J. KROSOCZKA--Northampton, MA  (Lunch Lady, 2 time Children's Choice Award Winner) * DAV PILKEY (Captain Underpants. Ricky Ricotta, Super Diaper Baby, New York Times Bestseller) * DAN SANTAT--Alhambra, CA (New York Times Bestseller, Sidekicks) * RAINA TELGEMEIER--Astoria, NY (New York Times bestseller, Eisner Award Winner, Smile, Drama)  * DAVE ROMAN--Astoria, NY(New York Times Bestseller, X-Men: Misfits) * URSULA VERNON--Pittsboro, NC (Dragonbreath, Hugo Award Winner) * ERIC WIGHT (Frankie Pickle) * GENE YANG (Eisner & Printz Award winner, American Born Chinese).
Praise For…
---
Publishers Weekly starred review, April 28, 2014:
"The orange two-color artwork lets the artists' distinctive styles shine; readers can only hope more such collaborations are on the way."

Kirkus starred review, June 1, 2014:
More fun than the playground at recess!

The Bulletin of the Center for Children's Books, September 2014:
A terrific introduction to the styles of [the] individual creators, inviting [graphic novel] newbies to wander through in search of a series that hits their own comic sweet spot.