The Aguero Sisters: A Novel (Paperback)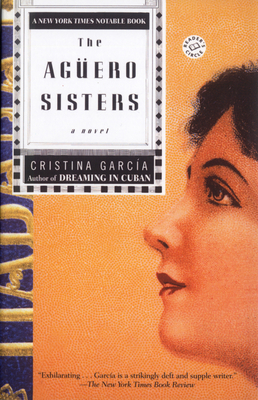 Description
---
Reina and Constancia Agüero are Cuban sisters who have been estranged for thirty years. Reina--tall, darkly beautiful, and magnetically sexual--still lives in her homeland. Once a devoted daughter of la revolución, she now basks in the glow of her many admiring suitors, believing only in what she can grasp with her five senses. The pale and very petite Constancia lives in the United States, a beauty expert who sees miracles and portents wherever she looks. After she and her husband retire to Miami, she becomes haunted by the memory of her parents and the unexplained death of her beloved mother so long ago.

Told in the stirring voices of their parents, their daughters, and themselves, The Agüero Sisters tells a mesmerizing story about the power of myth to mask, transform, and finally, reveal the truth--as two women move toward an uncertain, long awaited reunion.
About the Author
---
Cristina García was born in Havana and grew up in New York City. Her first novel, Dreaming in Cuban, was nominated for a National Book Award and has been widely translated. Ms. García has been a Guggenheim Fellow, a Hodder Fellow at Princeton University, and the recipient of a Whiting Writers' Award. She lives in Los Angeles with her daughter, Pilar.
Praise For…
---
Excerpts from reviews of Cristina García's The Agüero
Sisters

"An extraordinary new novel does justice to the Cuba of history as well as
the Cuba of imagination....Garcia has crafted a beautifully rounded work
of art, as warm and wry and sensuous as the island she so clearly loves."

--Time

"In 1992, Cristina Garcia's Dreaming in Cuban announced the
presence of a new star in the American literary firmament.... Garcia's
remarkable second novel, The Agüero Sisters, is even better, a
deeper, more profound plunge into the mysteries of loyalty, love and
identity (national, familial and otherwise)....Cristina Garcia again
proves herself a gifted chronicler of exile's promise and peril."

--Newsday

"Five years after her debut, the former journalist has made good on her
early promise with a superb second novel, The Agüero
Sisters....With sensual prose and a plot that captures the angst of
the Cuban diaspora...Garcia seductively draws us in and refuses to let go."

--Newsweek

"The conventions of magic realism can either amplify the story and give it
resonance or fragment the narrative, draining it of clarity. Garcia's
beautifully written second novel...seems to embody both extremes....Her
prose is lush and rhythmic, so that the novel has an almost feverish air."

--Booklist

"A bold and very richly detailed portrait...Fluid, graceful, and extremely
rewarding: a work of high seriousness and rich detail."

--Kirkus Reviews

"Cristina Garcia neatly sidesteps the curse of the much-feted first
novel...with the assured The Agüero Sisters, a vibrant tale of
a repressed Manhattan cosmetics saleswomen and her sexy, Havana-based
sister that blends family, culture, and Garcia's shapely prose into a
rich, velvety world one is loath to leave."

--Elle

"This is no paint-by-numbers allegory. Garcia's characters are
three-dimensional and her novel is filled with rich and compelling detail."

--San Francisco Chronicle