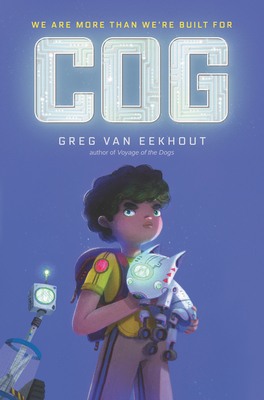 Staff Reviews
---
Reviewed by Marcela
Cog is about a robot who looks like an average twelve year old boy, but is built for what his name is short for, cognitive development. He lives with a roboticist named Gina who works for uniMind, the best company for robotics, and built him. He loves her and she loves him. But after an accident where Cog gets hit by a truck, uniMind takes Cog to a facility and away from Gina. The rest of the book is about Cog going on an adventure to get back to Gina, and on the way, he learns that not all people are nice. I liked this book because it shows how some people only care about money, and think robots should be controlled, and to Cog, that doesn't make sense, because he was given the power to choose what he wants, and this book emphasizes the power of choice. I think the bookstore should by this book.
— From
Young Readers Advisory Board
Fall 2019 Kids Indie Next List
---
"Since its creation date some months before, android Cog, designed for realistic human cognition, has lived happily with Gina in a house in the suburbs. When a misunderstanding sends Cog to a new 'home' at the headquarters of the tech firm that funded its creation, Cog makes friends with a talking car, a trash-bot, a robo-dog, and a sibling. Cog quickly gets to the heart of artificial intelligence, morality, and a road-trip adventure. This will engage young readers at once and inspire them to question assumptions about appearances, the law, and family."
— Myles Mickle, Village Square Booksellers, Bellows Falls, VT
Description
---
Five robots. One unforgettable journey. Their programming will never be the same.
Wall-E meets The Wild Robot in this middle grade instant classic about five robots on a mission to rescue their inventor from the corporation that controls them all.
Cog looks like a normal twelve-year-old boy. But his name is short for "cognitive development," and he was built to learn.
But after an accident leaves him damaged, Cog wakes up in an unknown lab—and Gina, the scientist who created and cared for him, is nowhere to be found. Surrounded by scientists who want to study him and remove his brain, Cog recruits four robot accomplices for a mission to find her.
Cog, ADA, Proto, Trashbot, and Car's journey will likely involve much cognitive development in the form of mistakes, but Cog is willing to risk everything to find his way back to Gina.
In this charming stand-alone adventure, Greg van Eekhout breathes life and wisdom into an unforgettable character and crafts a story sure to earn its place among beloved classics like Katherine Applegate's The One and Only Ivan.
About the Author
---
Greg van Eekhout lives in San Diego, California, with his astronomy/physics professor wife and two dogs. He's worked as an educational software developer, ice-cream scooper, part-time college instructor, and telemarketer. Being a writer is the only job he's ever actually liked. You can find more about Greg at his website: www.writingandsnacks.com.
Praise For…
---
"A page-turning novel of friendship, family, and standing up for what's right."
— Bulletin of the Center for Children's Books

"Cog is a gem of a robot, and his robotic observations are comedic gold. Readers will be charmed by this sci-fi tale of free choice, hot dogs, and fun word problems."
— Booklist

"Van Eekhout brings considerable heart and wisdom to this coming-of-age tale. A thought-provoking tale for younger readers about hubris and what it means to be human."
— Kirkus Reviews

Praise for Voyage of the Dogs: "Fast-moving, funny, and suspenseful. A deep-space furry adventure with heart and humor."
— Kirkus Reviews

"Who's a good boy? Lopside and the canine crew of the starship Laika! This dogs in space romp will make you sit up and beg for more."
— Alan Gratz, New York Times bestselling author of Refugee

"A crackling page-turner about courage and wonder, full of warmth and heart and characters who jump off the page. It's my favorite book of the year."
— Rae Carson, New York Times  bestselling author of the Girl of Fire & Thorns series

"Dogs in space? Who knew we needed that? But Greg van Eekhout proves we did! Voyage of the Dogs  is a delight, and kids are going to love it."
— Spencer Quinn, New York Times  bestselling author of Woof

"Dog-lovers and space enthusiasts will gravitate to Van Eekhout's riveting book."
— Booklist