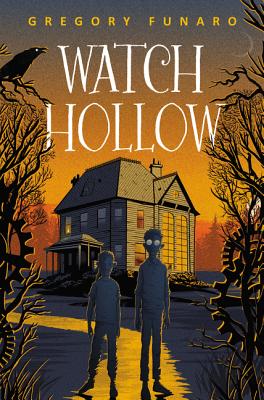 Other Books in Series
This is book number 1 in the Watch Hollow series.
Staff Reviews
---
Reviewed by Paris
I was scared and excited to learn what was going to happen next in Gregory Funaro's new book Watch Hollow. Lucy and her brother Oliver go on a journey with their father. There are strange things that are happening in a house. The story makes you get excited and scared while the surrounding forest is getting closer. A monster is lurking trying to get to the house but the sunstone is too strong. All the monster needs is fear. The animals need help or they will fail. There is a clock that needs repair but is quickly getting weaker. The story sucked me in right away. I would read Watch Hollow again.
— From
Young Readers Advisory Board
Description
---
New York Times bestselling author Gregory Funaro brings us into a world where magic exists, monsters roam in the shadows, and wooden animals come to life.
Deep within the enchanted woods in the town of Watch Hollow stands the once-grand Blackford House, whose halls hold a magical secret: a giant cuckoo clock that does much more than tell time. But when the clock's gears cease to turn, an evil presence lurking among the trees begins to come out of the shadows.
When Lucy and Oliver Tinker arrive in Watch Hollow, they have no idea that anything is wrong. A mysterious stranger has made their father an offer that's too good for him to refuse. All Mr. Tinker needs to do is fix the clock at Blackford House and fistfuls of gold coins are his to keep.
It doesn't take long, however, for the children to realize that there is more to Blackford House than meets the eye. And before they can entirely understand the strange world they've stumbled into, Lucy and Oliver must join forces with a host of magical clock animals to defeat the Garr—a vicious monster that not only wants Blackford House for itself, but also seeks to destroy everything the Tinkers hold dear.
About the Author
---
Gregory Funaro grew up in Cranston, Rhode Island, and wrote his first story, "The Ghost in the Window," in the fourth grade. He considers this to be his finest work, but unfortunately it has been lost to time. His other more recent works include the New York Times bestselling Alistair Grim's Odditorium series. Greg lives in North Carolina, where he teaches drama at East Carolina University.
Praise For…
---
"Filled with clever, magical, and instantly likable characters, Funaro's excellent, fast-paced, and twisty mystery—packed with suspense, facts, magic, and an incredible, deeply thought-out world—will leave readers eagerly awaiting the next chapter."
— Booklist (starred review)

"A well-wound tale of good versus evil."
— Kirkus Reviews

"The magically sentient house, creeping woods, and resident monster establish the story's shivery Gothic feel, which will more than satisfy readers in search of a pleasantly scary read."
— Bulletin of the Center for Children's Books

"There is magic, there is good and evil, and there is love all woven into a suspenseful and entertaining mystery. A well-crafted story that should be a hit with readers who enjoy a a good scare."
— School Library Journal (starred review)