Henry & Eva and the Castle on the Cliff (Hardcover)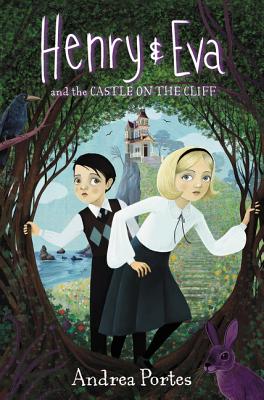 Staff Reviews
---
Review by Peri V.
Henry and Eva lost their parents in a mysterious boating accident, so their awful Uncle Claude
and his girlfriend, Terri the Terrible take over their parents' jobs in the house, but they also throw parties. One night, Henry and Eva slip out of the party like always, and they hear a wailing noise. The next
morning their ghost ancestors came and told them that their parents accident might not have been an accident at all. Henry and Eva go on a journey to find out if that's true. Will they find out the truth? Find out in Henry and Eva and the Castle on the Hill,.
— From
Young Readers Advisory Board
Description
---
The Graveyard Book meets The Goonies in this smart, spunky middle grade mystery from acclaimed author Andrea Portes!
Prominent Environmentalist and Oceanographer Die in Boating Accident
This is the headline that changes Henry and Eva's lives. Their parents, environmentalist William Billings and his oceanographer wife Margo, disappear mysteriously at sea.
But for Henry and Eva, things are about to go from bad to worse. Their jerk-face uncle (nicknamed Claude the Clod) and his awful girlfriend (Terri the Terrible) have moved into their big house on the cliff to "take care of them," but Eva has her doubts about their intentions.
And when some spooky visitors appear with a message, they realize that their parents' deaths might not have been as cut and dry as everyone thinks.
It's up to Henry and Eva to discover the truth—but can they do it before the Clod catches them?
Perfect for fans of Lemony Snicket, readers of this arch, spooky, timeless tale will find themselves enraptured with this fresh new middle grade series.
About the Author
---
Andrea Portes is the bestselling novelist of two critically lauded adult novels, Hick, her debut, which was made into a feature film starring Chloë Grace Moretz, Alec Baldwin, Blake Lively, Eddie Redmayne, and Juliette Lewis, and Bury This. Her first novel for young adult readers, Anatomy of a Misfit, was called "perfection in book form" by Teen Vogue. Her other YA novels include The Fall of Butterflies and Liberty: The Spy Who (Kind of) Liked Me. Andrea Portes's spooky, timeless middle grade debut is Henry & Eva and the Castle on the Cliff.
Andrea grew up on the outskirts of Lincoln, Nebraska. Later, she attended Bryn Mawr College. Currently she lives in Los Angeles with her husband, Sandy Tolan, their son, Wyatt, and their dog, Rascal. You can visit her online at www.andreaportes.squarespace.com.
Praise For…
---
"A traditional mystery with a ghostly twist… [and] cliff-hanger endings that will encourage page turning… An entertaining mystery for children who like their chills seasoned with laughs."
— School Library Journal

"Cleverly, the story feels like Gothic historical fiction, but it's set in the present… A delightful mystery tinged with heartache."  
— Kirkus Reviews

Praise for LIBERTY: "Paige's misadventures keep readers turning pages in this fast-paced spy drama... Fans of Libba Bray will enjoy the sharp banter and eclectic cultural observations. An entertaining girl-power, kick-butt, espionage romp."
— School Library Journal (starred review)

"The young operative navigates Russian secret agents and contacts in the mob with fast-paced action and biting wit—perhaps while falling in love in the process. A fun—and even funnier—thriller."
— Kirkus Reviews

PRAISE FOR THE FALL OF BUTTERFLIES: "[Willa's] first-person narration is self-deprecating, deeply thoughtful, and thoroughly funny, with a sometimes-chiding direct address that pulls readers into her confidence. Snarky and painfully astute. But in a good way.
— Kirkus Reviews (starred review)

"As with Anatomy of a Misfit, Portes's second YA novel has a seductive zaniness and almost unstoppable exuberance… Willa's memorable voice and humor, as well as her longing to cultivate relationships that will anchor her more firmly to the world, will linger with readers."
— Publishers Weekly

"The protagonist's voice is vibrant and authentic… Fans of Chelsey Philpot's Even in Paradise will enjoy this coming-of-age story with emotional appeal."
— School Library Journal

"[Willa's] idiosyncratic, often mean, sometimes vulnerable voice is the highlight of this contemporary problem novel... Willa's realization that some loving relationships are also toxic, and the slow fracturing of Willa and Remy's friendship are believably painful."
— Booklist

"Remy's terrible choices throughout (including seducing a teacher) and her descent into drug abuse feel organic rather than histrionic, while Willa's emergence from the dark is hard-fought and believable."
— Horn Book Magazine

PRAISE FOR ANATOMY OF A MISFIT: "A self-deprecating and highly memorable heroine whose bawdy, laceratingly funny narration makes her instantly endearing while also revealing her flaws, uncertainties, and ethical quandaries."
— Publishers Weekly (starred review)

"… a romance filled with seriously funny dark humor and tragedy."
— Kirkus Reviews