The Lost Rainforest #2: Gogi's Gambit (Hardcover)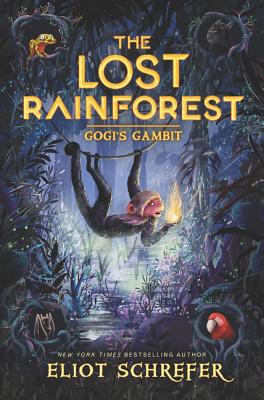 $16.99
Coming Soon - Available for Pre-Order Now
Staff Reviews
---
Reviewed by Amelia
A fun and magical adventure that tells us that the rainforest is probably easy to get lost in. Gogi's Gambit tells us that Gogi is having an adventure. The main character is Gogi, and he wants to save Caldera, his home, from the Ant Queen. Gogi can shoot fire out of the palms of his hands! He got that power during a magical eclipse when he was born. Some of the obstacles that get in his way are ants, millions of ants, that have poisonous mandibles and under the Ant Queen's order and some other animals that turned evil, wants to kill Gogi and his friends. The genre is fantasy, and the setting is the rainforest and the mood is exiting, but also scary at the same time. A little funny, too.
— From
Young Readers Advisory Board
Description
---
The second book in New York Times bestselling author and National Book Award finalist Eliot Schrefer's Lost Rainforest series will thrill fans of Warriors and Spirit Animals with action and humor as the shadowwalkers battle to save their magical rainforest home.
Caldera always existed in harmony between the creatures who walk by day and those who walk by night—until an ancient evil awakened. In the year since the shadowwalkers' narrow escape from the Ant Queen, the ants' destruction has only spread.
Gogi, a shadowwalker monkey still learning to wield his fire powers, embarks on a quest with his friends—including a healing bat, an invisible panther, and a tree frog who controls the winds—for a powerful object that can harness the magic of the eclipse to defeat the Ant Queen.
But with just weeks before the next eclipse, Gogi must race to prove that he can control the mighty depths of his talent if he is to protect his friends, save the rainforest, and return home unsinged.
About the Author
---
Eliot Schrefer is a New York Times bestselling author, has twice been a finalist for the National Book Award in Young People's Literature, and has won the Green Earth Book Award and the Sigurd F. Olson Nature Writing Award for Children's Literature. His novels include Endangered, Threatened, Rescued, Orphaned, two books in the Spirit Animals series, and the Lost Rainforest series. He lives in New York City, is on the faculty of the Hamline University and Fairleigh Dickinson University MFA in creative writing programs, and is the children's book reviewer for USA Today. Visit him online at www.eliotschrefer.com.
Praise For…
---
★ "The second installment in this fast-paced fantasy is enhanced by the richly detailed rainforest setting... a tale about how to celebrate differences and still find unity. Another knockout in a series that will appeal to nature lovers, animal lovers, and fans of magical adventure."
— Kirkus Reviews (starred review)

★"Schrefer's second book in the Lost Rainforest series continues the enthralling fantasy adventures of this eclectic group of animals and hints at where the next threat to the rain forest will come from. Fans of Mez's Magic and Katherine Applegate's Endling #1: The Last (2018) will eagerly devour Gogi's Gambit."
— Booklist (starred review)

PRAISE FOR MEZ'S MAGIC: "Unlike anything I've read. Eliot Schrefer has mined the richness and depths of his setting to find a deeper magic, immersing us in a world that is at once complex, dangerous, beautiful, and ultimately demanding of our protection. A thrilling start to an exceptional new series."
— Soman Chainani, New York Times bestselling author of the School for Good and Evil series 

★ "While the story is pure fast-paced fantasy, the underlying issues are real. Ignorance among the species, racism, and intolerance of differences are rampant. An author's note highlights the beauty and importance of the rainforest. Magic with depth in this new series stunner."
— Kirkus Reviews (starred review)

"Just right for middle grade readers who want an engrossing fantasy adventure."
— School Library Journal

"With a memorable, quick-bantering cast, this kickoff to the Lost Rainforest series, a playful departure from Schrefer's ape novels, brings fresh perspective to the magical animal subgenre. And, despite the fantasy setup, readers will come away learning quite a bit about this ecosystem and its inhabitants."
— Publishers Weekly

"Mez's Magic is packed with as many jokes as fast-paced fight scenes. And Schrefer has created a stock of memorable characters—including Gogi, a monkey with self-esteem issues; Rumi, a delightfully urbane tree frog; and a manic, pixie-dream bat named Lima."
— New York Times Book Review