The Lost Girl (Hardcover)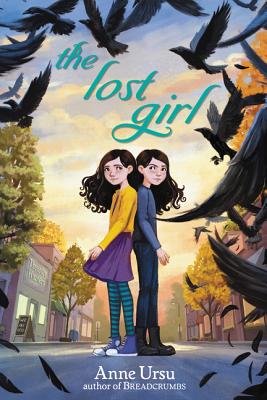 Staff Reviews
---
Twins Iris and Lark agree that they have better outcomes when they are together. Unfortunately, their parents don't agree and the two are quite unhappy when they are in separate 5th grade classrooms. As they are forced to depend less on each other they discover more about themselves. When Iris searches for answers in Treasure Hunters, the strange shop across from the library she finds more than she bargained for. I love the surprise narrator.
— Kraar, Jennifer
Reviewed by Peri V.
Iris and Lark are identical twins. Iris has always been the brave, smart, and somewhat boring one; Lark has been the artsy, clever, idea-making one. Together they're Iris and Lark, but when their parents and principal decide that they should be in different classes, they start to change. Iris is not allowed to go to Lark's after-school art program. Iris turns grim, Lark is... different. All over the city things are going missing. Iris decides it is up to her to keep her loved ones safe.
I liked the strong friendship between Iris and Lark. The kindness and fights with each other showed that they loved each other very much and would do anything for one another.
— From
Young Readers Advisory Board
Spring 2019 Kids Indie Next List
---
"Iris has always defined herself by how she's different from her twin sister, Lark. Lark is bursting with imagination, and Iris is the one who anchors her sister to the real world. But when the two girls are assigned different teachers for the first time, Iris is lost — what's an anchor without the thing it anchors? How can she protect her sister if people won't let them stay together? In a world that seems to be falling to pieces, Iris fights to figure out who she wants to be and who she can count on to fight at her side. This is the kind of book you'll want to hug when you're done reading it."
— Lillian Tschudi-Campbell, Red Balloon Bookshop, St. Paul, MN
Description
---
Three starred reviews
A Publishers Weekly Best Children's Book of 2019

Anne Ursu, author of the National Book Award nominee The Real Boy, returns with a story of the power of fantasy, the limits of love, and the struggles inherent in growing up.
When you're an identical twin, your story always starts with someone else. For Iris, that means her story starts with Lark.
Iris has always been the grounded, capable, and rational one; Lark has been inventive, dreamy, and brilliant—and from their first moments in the world together, they've never left each other's side. Everyone around them realized early on what the two sisters already knew: they had better outcomes when they were together.
When fifth grade arrives, however, it's decided that Iris and Lark should be split into different classrooms, and something breaks in them both.
Iris is no longer so confident; Lark retreats into herself as she deals with challenges at school. And at the same time, something strange is happening in the city around them, things both great and small going missing without a trace.
As Iris begins to understand that anything can be lost in the blink of an eye, she decides it's up to her to find a way to keep her sister safe.
About the Author
---
Anne Ursu is the author of Breadcrumbs, which Kirkus Reviews called a "transforming testament to the power of friendship" in a starred review, and was acclaimed as one of the best books of 2011 by The Bulletin of the Center for Children's Books, School Library Journal, Publishers Weekly, Amazon.com, and the Chicago Public Library. It was also on the IndieBound Next List and was an NPR Backseat Book Club featured selection. She was also the recipient of the 2013 McKnight Fellowship Award in Children's Literature. Anne teaches at Hamline University's MFA in Writing for Children and Young Adults. She lives in Minneapolis with her son and four cats—monster fighters, all.
Praise For…
---
"Ursu ends this passionate and complex story with a celebration of sibling autonomy, youthful agency and the power of friends."
— New York Times Book Review

★"National Book Award nominee Ursu laces her story with fairy-tale elements and real-life monsters, while taking great care to cast girls in an empowering light and as authors (and heroes) of their own stories. It is a layered, mysterious tale that will speak to many."
— ALA Booklist (starred review)

★"As intriguing as it is eerie… This suspenseful mystery offers a story of empowerment, showing how one girl with the help of others can triumph."
— Publishers Weekly (starred review)

★"The sense of adventure and mystery make this appealing to a wide audience. A beautiful, timeless tale of love conquering darkness in the midst of mystery and the angst of change. A must-have for any middle grade collection."
— School Library Journal (starred review)

"Ursu unleashes a sharp, timely, age-appropriate critique of the myriad ways in which patriarchal culture devalues female agency, especially that of young girls. The novel finely balances the importance of self-reliance with the power of collective action."
— Bulletin of the Center for Children's Books

"Ursu's fans will find much to love."
— Kirkus Reviews

"A magical story of sisterly love and loss and friendship."
— Tulsa Book Review